We are pleased to introduce another new face on the ETSI-BC Board! Kevin Acton is the Mayor of Lumby, currently serving his fifth term. He serves as Chair of the Regional District of North Okanagan (RDNO), which encompasses five electoral areas and six municipalities, including Armstrong, Coldstream, Enderby, Lumby, Spallumcheen, and Vernon. Kevin also serves as the RDNO representative on the Board of the Municipal Finance Authority of British Columbia.
In addition to his extensive local government background, Kevin also possesses 23 years of experience as a small business owner, which helped him develop a grassroots approach to economic development.
"Sixteen years ago, when I began my first term as mayor, the last of Lumby's mills closed. Today, Lumby is thriving with a healthy, sustainable economy. During my tenure on the ETSI-BC board, I look forward to helping other communities find their rhythm and make the most of their economic potential by helping with the placement of economic development funds," says Kevin.
"Much of B.C.'s economy is driven by small businesses, and I believe there are some real opportunities to help our province continue to be the place to do business. No matter the magnitude, every project has the potential to bolster our economy. Every effort every individual makes impacts our overall success."
Mayor Acton 'stumbled across' Lumby in his late 20s after living in almost every Canadian province. He quickly realized this was the place he had been looking for.
"We are an hour from an international airport, and are surrounded with culture, music, and shopping, with easy access to an endless supply of outdoor recreational activities like flyfishing, camping, mountain biking, whitewater kayaking, and skiing."
Living and working in the Southern Interior region is exactly where Kevin wants to be, and he does all he can to ensure it is a thriving place, full of opportunity.  
"I am excited for our province and look forward to rolling up my sleeves and working on this new adventure with ETSI-BC."
Thank you, Kevin, for sharing your enthusiasm and optimism as a Director on the ETSI-BC Board. Not to mention your wonderful fashion sense! If you ever meet Kevin, check out his shoes! 😉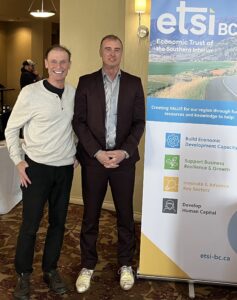 #StrongEconomy #StrongerCommunities #ETSIBC