Ktunaxa Nation aligns environmental stewardship with economic prosperity.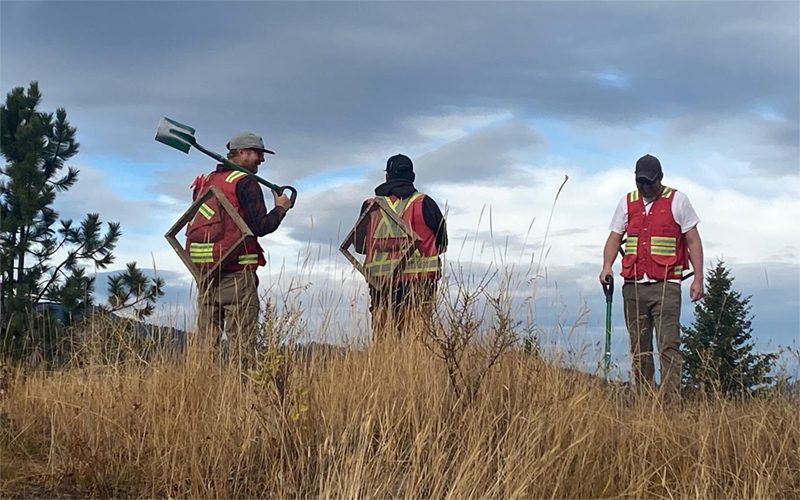 If you find yourself lucky enough to visit the expansive green mountains and valleys of the Ktunaxa Nation territory in southeast B.C., you may see a well-appointed, shiny new logging truck roll by, filled with wood neatly stacked like matchsticks. The trucks hauling lumber throughout Ktunaxa Nation are from ʔamakʔis Transport Inc. (pronounced Amakis), a quickly expanding transport company committed to environmental vigilance and stewardship practices.
Just one of many businesses supported by Ktunaxa Enterprises Ltd. (KEL), ʔamakʔis Transport has swiftly expanded, becoming a shining example of the strides that Nation-focused business can take with the right structure and assistance.
"It's an exciting time," says Heather Burrows, KEL's project and business administration manager. "We have a unique opportunity being that we are Nation-owned; I haven't seen any structure like this working in B.C. before."
Burrows notes that ʔamakʔis doubled in size in less than a year with the support of the Ktunaxa Nation Council and integrated forest products company Canfor. The operation proudly upholds Ktunaxa Nation values that ensure ecological integrity and preserve land for future generations. KEL acts as the business arm for the Ktunaxa Nation, with Ktunaxa Nation Council Society, Ɂaq'am, Ɂakisq'nuk First Nation, Lower Kootenay Band, and Tobacco Plains Band all holding shares.
Together KEL and these shareholders make up Ktunaxa Holdings Limited Partnership (KHLP), an umbrella organization with multiple business units that collectively "pursue[s] and manage[s] sustainable and responsible businesses as well as support[s] Ktunaxa Communities in cultivating business and economic development opportunities."
ESTI-BC funding jumpstarts operation
According to Burrows, funding from the Economic Trust of the Southern Interior (ETSI-BC, formally SIDIT), in addition to Western Economic Diversification, Columbia Basin Trust, the BC Rural Dividend Fund, and their Ktunaxa partners, was integral in helping operationalize KEL and initiate high-level and structural changes.
In 2016, the Ktunaxa Nation Council and its 20 leaders were preparing to sign an Impact Management and Benefit Agreement with Teck Resources Ltd., and realized the Nation-level business framework, KHLP, was not being fully utilized. With funding resources secured, Ktunaxa leaders unanimously decided to formalize and launch the limited partnership structure to separate Ktunaxa Nation Council politics from the Nation business arm. The funding also allowed KEL to move out of the Council office building into a permanent location, thus separating it physically and structurally, and creating a business-primary organization. It also supported them in hiring six full-time employees.
Collective-focused businesses benefit a Nation
KEL has significantly impacted Nation engagement and helped facilitate the creation and growth of many community-focused businesses in Ktunaxa Nation and beyond. The organization offers management service support, including high-level core administration services like accounting, strategic business support, and human resources.
As KEL continues to support businesses like ʔamakʔis Transport, they simultaneously undertake other business development opportunities that will improve the corporation's long-term financial and operational stability. Burrows has multiple examples of businesses that have been either launched or exponentially expanded over the last few years.
KEL recently supported the expansion of Nupqu, a professional land and resource management service within the KEL group of companies. It acquired two businesses, creating Nupqu Native Plant Nursery Division, specializing in conducting reclamation projects, and Nupqu Archeological Division, specializing in archaeology. Another business unit houses Kettle River Contracting, a significant civil construction and general contracting firm that provides services to the resource development industry.
"We're very excited for the opportunities we have coming our way and the capacity that we're beginning to realize through the dedication and hard work of the KEL team with support and direction from our board of directors," says Burrows. "We're leveraging things in a strategic, accountable, and responsible manner, all while respecting and adhering to Ktunaxa values. ETSI-BC and its funding supported us to come to this place of success. We're proud of what we've accomplished and look forward to what's to come for the Nation as we continue to work towards economic self-sustainability.